Hello Cloud Marathoners!
We live in a rapidly evolving security landscape 🔐 🛡 with new challenges every day. Even after the pandemic, our work continues to be blended with remote work where many organizations enabled the BYOD policies to increase productivity of the people.
Growing landscape of cybersecurity attacks
Relaxed controls on IT assets, welcomed potential vulnerabilities, and attack surfaces are also expanded adding layers of complexity to corporate IT to perform their task to defend and enable organizational services.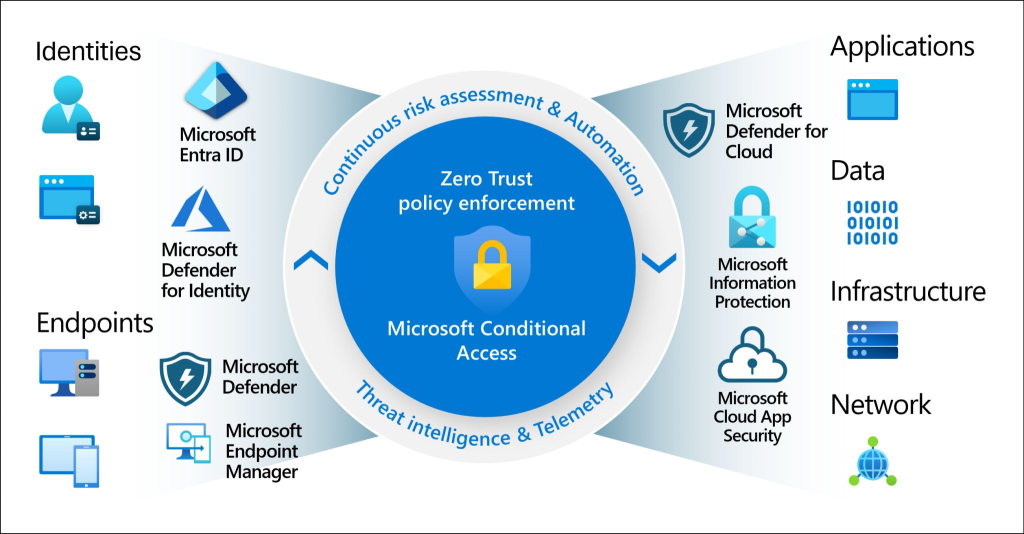 Zero Trust model aligned services
Zero Trust model offered by leading industry players like Microsoft offers comprehensive solutions to our security challenges. Let's consider those services and their benefits that are listed below:
✅ Security Posture Management
It is enhanced with Azure Policy and Azure Blueprints by defining and enforcing compliance and control guardrails on Azure resources
✅ Identities
Are strengthened using Entra ID (aka, Azure AD) providing robust authentication and authorization.
✅ Endpoint Management
Services like Microsoft Intune and Entra ID Join manage the corporate and BYOD devices with strict compliance
✅ Web App protection
Azure Defender for Cloud & Azure Web Application Firewall (WAF) protects app services by using bleeding-edge security features
✅ Data security
Remains top priority in transit and rest with advanced security features of Azure Storage services by providing encrypted, reliable, and scalable solutions
✅ Infrastructure security
Secrets and certificates are protected with Azure Key Vault services and Microsoft Defender for Cloud offers comprehensive threat protection from day zero
✅ Network Security
Azure network services like Azure Firewall and Virtual Networks are ensuring traffic is secure and segmented
✅ Conditional Access & Controls
App and data access is guarded by Microsoft Defender for Cloud Apps and Conditional Access services by enforcing specific access controls and providing visibility of your SaaS app landscape to help protect your apps.
✅ Modern SIEM and SOAR solution
The Azure Sentinel stands as a cloud-native solution that combines capabilities by centralizing threat detection and response.
In Summary
In summary, Microsoft Azure provides tools and services that are specifically designed to address growing concerns of vulnerabilities that your IT and Security team are tasked to deal with by following Zero Trust principles.
[🖐 Credit] Microsoft Zero Trust & Conditional Access docs
Subscribe to the #cloudmarathoner LinkedIn #tag 👏👀
Stay tuned for more Cloud, Automation & Security-related posts.
Fᴏʟʟᴏᴡ ᴍᴇ 🎯 ᴀɴᴅ become ᴀ #cloudmarathoner ⛅🏃‍♂️🏃‍♀️ – 𝐋𝐄𝐓'𝐒 𝐂𝐎𝐍𝐍𝐄𝐂𝐓

📌 Check out the LinkedIn post 👉 https://www.linkedin.com/posts/elkhanyusubov_cloudmarathoner-tag-cloudmarathoner-activity-7106249128782749696-4k0j #sharingiscaring ❤️