Hello, dear #CloudMarathoner community!
If you have been implementing your customers with the management of enterprise subscriptions and policies, then it is a pretty common need to automate the provisioning of those subscriptions in a controlled and secure manner.
The good news is that you don't have to reinvent the wheel and do everything from scratch. The Microsoft team that is behind the Azure Landing Zones implementation has a good reference that could tremendously help you.
Microsoft Global Customer Success team
Have you ever checked the subscription vending IaC Modules from the Microsoft Global Customer Success team (the same team behind Azure Landing Zones)?
Subscription Vending IaC Modules
Well, if not then Subscription Vending IaC Modules are available for you in two popular infrastructure-as-code (IaC) tools: Bicep and Terraform.
AND designed to help you implement the best practices for subscription provisioning.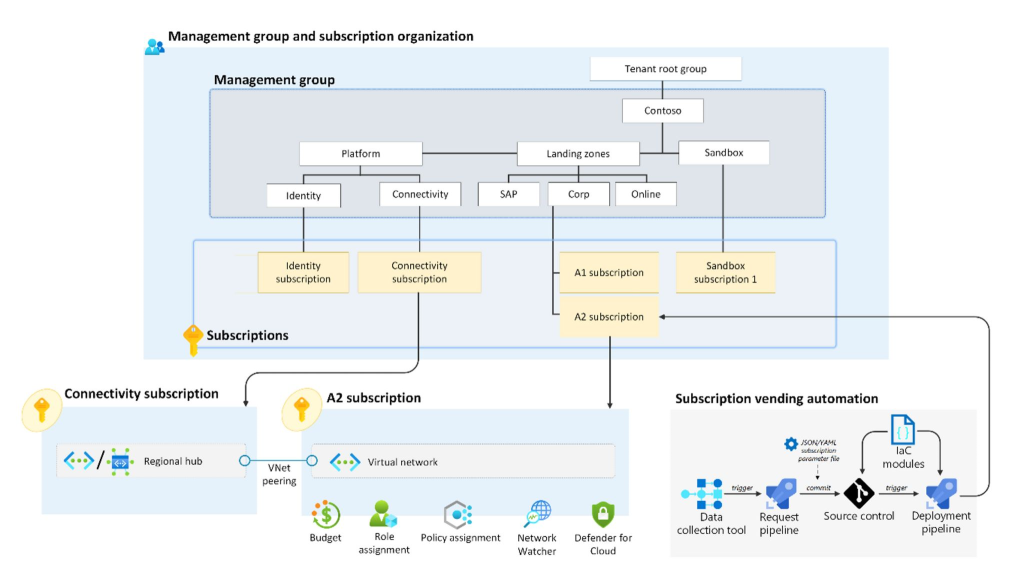 Why use these modules?
Using these modules, you can quickly and easily provision new Azure subscriptions that are pre-configured to meet your organization's specific needs. The modules include parameters/variables for Role-Based Access Control, Networking, Tags, and more.
📌 Check out the Bicep 💪 Landing Zone vending module for Azure a GitHub repo 👉 https://lnkd.in/dJRiK5yG
📌 Check out the Terraform landing zone vending module for Azure a GitHub repo 👉 https://lnkd.in/dtndsfXr #sharingiscaring ❤️
In Summary
So, what is your preferred way to provision Azure subscriptions ⁉ 🤔
Please, share your feedback 💬 in the comments or in the following LinkedIn post.