Hello friends,
I am getting ready bits and pieces of the presentation and demo code for the #GlobalAzure 2021 event.

This is going to be my second year in a row, presenting at this global event, and I am pumped to contribute with two new sessions this year.

Feel free to check out the details of each session and links here .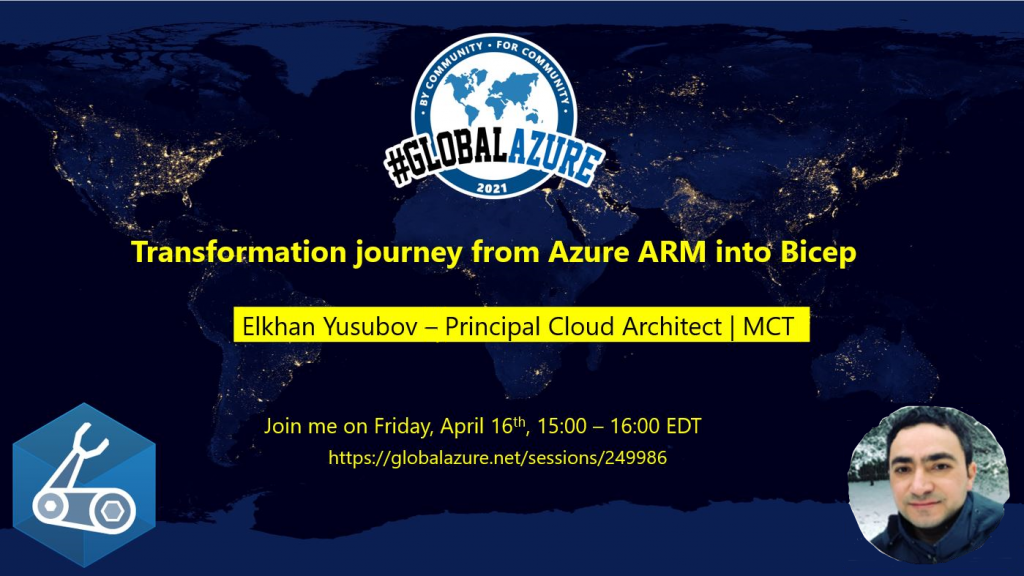 WHY bother to transfrom your exising Azure ARM templates into Bicep?
Easy to understand and maintain code for your Azure infrastructure
Day zero support for all resource types & API versions
Nice transparent abstraction for the underlying platform
Awesome Tooling – VS Code extension for Bicep
Deep integration with other Azure Services
Preflight validation – both Bicep/ARM does preflight validation on entire template
Provides high level of confidence that your code is 'syntactically valid' before deploying
Support – starting from v.03, Bicep is 100% supported by Microsoft Support Plans
This time, I am looking forward to share level 200 talk and demos, where we will ALL deep dive into challenges of transforming exisiting ARM templates into Azure Bicep.
We will inspect the ARM JSON decompiler, which comes with Azure Bicep and how to make it work your way.
Stay tunes, i hope to see you all during the event!