Hello cloud marathoners,
There are many security and multi-cloud capability services under Microsoft Azure umbrella of services. In this post, I will reference the Microsoft documentation to clarify those capabilities on high-level.
I hope this post will clarify intent and purpose of these capabilities for you.

Important: Please zoom into a infographic – as it is of a high quality and can be very informative in understanding the article.
Microsoft's cross-platform or cloud security starts with endpoints and cloud visibility and controls: namely Endpoint management and Cloud Security Posture Management (CSPM) that provides insight across your multi-cloud and on-premises datacenter estate as well as Cloud Workload Protection capabilities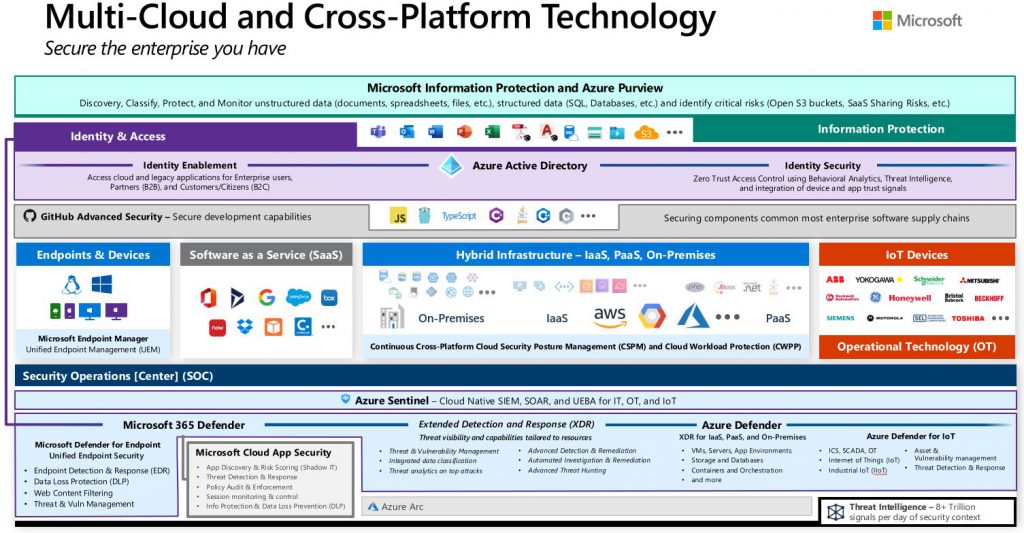 Next are the SIEM and XDR Strategy – where Microsoft provides integrated capabilities for the Security Operations / SOC to get the broad and deep visibility needed to rapidly detect, hunt for, and respond/recover to threats across clouds and platforms.
The following capability on the infographic is – Infrastructure Extended Detection and Response (XDR). These capabilities are provided through set of services, namely Azure Defender, Azure Arc, Microsoft 365 Defender with number of features combined under the suit of services.
Next set of capabilities are Identity Enablement and Security – where Azure Active Directory provides comprehensive solutions, including Zero Trust access control that explicitly verifies trustworthiness of devices (via XDR) and users via native UEBA, Threat Intelligence and analytics.
And finally, Information Protection capabilities – utilize the Microsoft Information Protection and Azure Purview services that provide a full lifecycle approach to discovering, classifying, protecting, and monitoring structured and unstructured data as your organization generates and leverages more data. These capabilities provide insights to drive mission completion and competitive advantage.
What would be your approach?
Please, share in the comments section 👍
#SharingIsCaring❤️️
Important: Please zoom into the infographic – as it is of a high quality and can be very informative in understanding this article.
#microsoftazure
#multicloud
#crossplatform
#endpointmanagement
#SOC
#securityengineering
#identityaccessmanagement