Good day, #CloudMarathoner community!
I am very glad to announce the latest stats and progress on our community repo "Awesome Azure Bicep"!
What is Awesome Azure Bicep
This is a GitHub repo that helps you to learn and discover resources that are helping you with the adoption of Azure
Bicep – a new #infrastructureascode approach to manage Azure resources.


Check out a curated list of blogs, videos, tutorials, code, tools, scripts, and anything useful to help you learn Microsoft #AzureBicep language
https://lnkd.in/e58nEfbd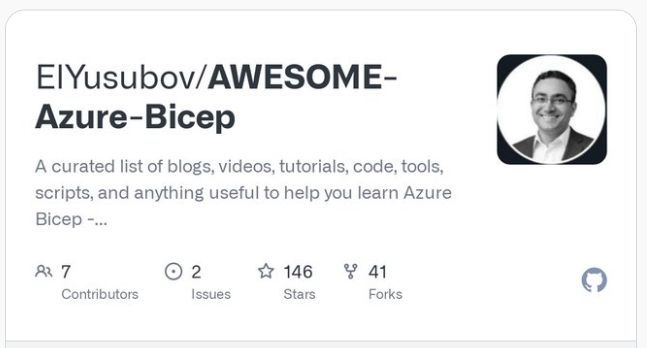 who are the contributors?
Huge Kudos to #community contributors who made the latest version possible:

Luke Murray
Kasun Rajapakse
John Lokerse
Sam Cogan
Christopher Maneu
Matt Willson
call for action
Thanks for the 145+
and 40+
from the #community we are growing and looking for your contribution
Please, check this #community maintained and updated repo and feel free to open an issue or provide feedback.
📌 Check out the post details on LinkedIn platform 👍
Thank you for all your hard work!